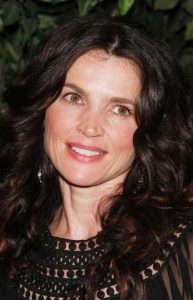 Actress Julia Ormond first appeared in the miniseries Traffik. She later guest-starred in The Ruth Rendell Mysteries and played the lead in the TV film Young Catherine. Afterward, she portrayed Nadezhda Alliluyeva in the TV film Stalin. In 1993, she had her first film role in The Baby of Mâcon, after which she starred in the movies Nostradamus and Captives. She became widely known for starring as Susannah Fincannon-Ludlow in Legends of the Fall. Subsequently, she played Guinevere in the 1995 film First Knight.
Her next roles were in the films Sabrina, Smilla's Sense of Snow, and The Barber of Siberia. In the 2000s, she landed starring roles in the films The Prime Gig, Resistance, Inland Empire, I Know Who Killed Me, Surveillance, and Che. Following this, Ormond reunited with Legends of the Fall co-star Brad Pitt as she played Caroline Fuller in The Curious Case of Benjamin Button. At the same time, she played Margaret Kittredge in Kit Kittredge: An American Girl.
On TV, she portrayed Inez Milholland in the movie Iron Jawed Angels. She also appeared as Gillian Whitford in 3 episodes of CSI: NY. In the 2010s, she played Sarah Khouri in Nurse Jackie, Paula Gyson in Law & Order: Criminal Intent, and Marie Calvet in Mad Men. Between 2013 and 2014, she played Joanna Beauchamp in Witches of East End, as well as starred as Elizabeth Krauss in Incorporated. She recently starred in the BBC One miniseries Gold Digger.
Now in her 50s, the English star maintains her wellness by eating right and in moderation. She now knows better than to consume processed, junk foods. Although as far as she can remember, she's always been a healthy eater. It's something she's since incorporated into her lifestyle at a young age. Her diet plan typically consists of fruits, vegetables, lean proteins, and healthy fats. Once in a while, she indulges in sweets but she never overeats.