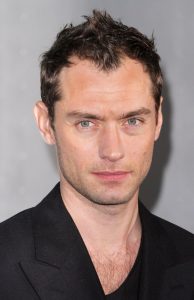 Hollywood actor Jude Law had his career beginnings in 1989 with a small role on the TV film The Tailor of Gloucester. Later in 1994, he made his big screen debut in the film Shopping. His first notable role was as Lord Alfred Douglas in the 1997 British biographical film Wilde. For his work here, he won the Evening Standard British Film Award – Most Promising Newcomer. He next starred as Jerome Eugene Morrow in the movie Gattaca. He was later praised for his performance as Dickie Greenleaf in 1999's The Talented Mr. Ripley. For his role, he was nominated for an Academy Award for Best Supporting Actor. His career flourished in the 2000s, first starring in the film Enemy at the Gates where he earned a European Film Award Audience Award nomination for Best Actor.
He also starred as Gigolo Joe in A.I. Artificial Intelligence, getting a Golden Globe nomination. He later gained further fame for his performances in Road to Perdition, Cold Mountain, and Alfie. His work in Cold Mountain earned him a nomination for Best Actor at the Oscars. In 2004, he portrayed Errol Flynn in Martin Scorsese's The Aviator. He also played the titular characters in Sky Captain and the World of Tomorrow and Lemony Snicket's A Series of Unfortunate Events. He next starred in the romance films The Holiday and My Blueberry Nights. In the 2010s, he played Dr. John Watson in the Sherlock Holmes films. He recently portrayed Albus Dumbledore in 2018's Fantastic Beasts: The Crimes of Grindelwald.
The actor works out, especially when a character for a film requires him to. Overall though, he admits that while following a training regimen can be stiff, it makes him feel great about himself. "It's fun to be on set, feeling your best and being ahead of the game," the actor said.
"I used the excuse of filming to work out with Lisa Twight, an amazing woman who trained a lot of the guys on 300. I also train with Johnny Silmon in London who's just brilliant. I needed to bulk up for Anna Christie so I put on a stone of weight in muscle. Johnny had me change my diet and routine. He's thrown all sorts of things at me: yoga; rowing; boxing; running – we do a whole mixture of stuff."