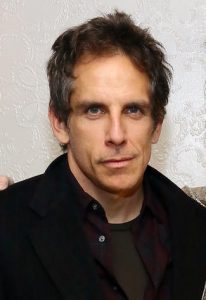 Actor Ben Stiller debuted in 1986 in an episode of the TV series Kate & Allie. He next made his cinematic debut in the 1987 film Hot Pursuit, followed by a role in Empire of the Sun. He later appeared on Saturday Night Live. He became further known during the '90s, starring in the films Reality Bites, The Cable Guy, Flirting with Disaster, and There's Something About Mary. He also became known for his show The Ben Stiller Show, where he won an Emmy Award.
In the 2000s, his acting career, especially as a comedic actor, flourished. He had starring roles in such films as Meet the Parents, Zoolander, The Royal Tenenbaums, Duplex, Meet the Fockers, DodgeBall: A True Underdog Story, Starsky & Hutch, Along Came Polly, Night at the Museum, The Heartbreak Kid, and Tropic Thunder. Continuing his work in Hollywood in the 2010s, he headlined the movies Little Fockers, Tower Heist, The Secret Life of Walter Mitty, Night at the Museum: Secret of the Tomb, Zoolander 2, The Meyerowitz Stories, and Brad's Status. Stiller is also a prolific director and producer.
The actor admits that he's more health-conscious recently that when he was younger. As a matter of fact, he has changed his diet entirely, mostly sticking to plant-based meals. He describes himself as a pescatarian since he still eats fish, but the rest of his diet is a vegan one. "I had to tell my parents I was a vegan, I came out to them," said the actor. "They were a little bit confused at first, but now they're supportive."
When asked if it's easy changing his diet, he said: "That's what vegans don't tell. That it's hard. Because you miss everything. I ate kale chips today. I wanted to have ribs, but I ate kale chips." On the other hand, the actor revealed that going for a plant-based diet has improved his energy levels and made his skin radiant.