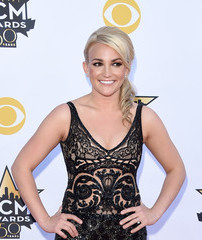 Jamie Lynn Spears is an actress and singer. The younger sister of Britney Spears, she started her career at a young age, first appearing in the 2002 film Crossroads, which starred her sister. At the same time, she joined the cast of the sketch comedy program All That. After making appearances in such shows as Switched! and A Weekend with…, she landed the lead role of Zoey Brooks in the TV series Zoey 101, which aired on Nickelodeon from 2005 to 2008.
She also reprised her role in the TV movie Zoey 101: Spring Break-Up. Spears next guest-starred in Just Jordan and Miss Guided. For some years, the actress-singer took a hiatus after announcing her pregnancy and deciding to focus on her mother. She returned to working in entertainment in the 2010s, initially appearing in a few documentaries, one covering her sister titled I Am Britney Jean. She also appeared in talk show programs such as The Talk. Spears returned to acting full-time in 2020 after landing the role of Noreen Fitzgibbons in the romantic drama series Sweet Magnolias, a role she still plays up to present.
What is Jamie Lynn Spears' Diet Plan?
Jamie Lynn Spears has been in the limelight starting when she was a young kid with her sister's massive popularity. During her teens, she also pursued a Hollywood career on her own, leading her to star in her own teen show on Nickelodeon. Growing up on television, she has also dealt with people's comments about her appearance.
But while the actress seems to be fit and healthy, she has also faced backlash for promoting a slimming product on social media. Other celebrities called her out for promoting products like these since they usually don't promote health and well-being. It also made her fans wonder if she was actually using weight loss quick remedies to make up for unhealthy binge-eating or snacking, which, of course, is not healthy.
The actress, however, insists that she takes care of her body by eating healthily and following a consistent workout routine. Overall, she sticks to organic foods, mostly veggies and fruits to get the most health benefits.