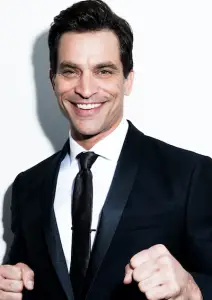 Hollywood actor Johnathon Schaech debuted in the 1993 TV film The Webbers. That same year, he made his first movie role in the Italian film Sparrow. He went on to appear in the movies How to Make an American Quilt, The Doom Generation, That Thing You Do!, Hush, and Finding Graceland. In 1998, he played the title character in the TV movie Houdini.
Later in the 2000s, he had performances in the films After Sex, How to Kill Your Neighbor's Dog, Sol Goode, The Forsaken, Kiss the Bride, Suzanne's Diary for Nicholas and 8mm 2. He also portrayed the title role in 2004's Judas. In the late 2000s, the actor starred in the films Living Hell, Prom Night, Quarantine, and Laid to Rest. He continued his film career in the 2010s, landing acting roles in such movies as Takers, 5 Days of War, Phantom, Hercules: The Legend Begins, Flight 7500, and Arsenal, among others.
During this period, he also made one-time roles in various TV shows like Sleepy Hollow and Quantico. In 2015, he starred as Col. Sydney Sherman in the miniseries Texas Rising. Between 2016 and 2018, he appeared as Jonax Hex in some episodes of Legends of Tomorrow. He reprised his role in an episode of Batwoman. His latest film roles include Acts of Vengeance, Day of the Dead: Bloodline, Reprisal, and The Night Clerk.
For his starring role in Texas Rising, Johnathon Schaech upped his physical training to prepare for his part. Talking about the kind of training that he did for the show, he said: "The TRX was my saving grace. I'd do the TRX Texas Rising Workout, which was a full-body circuit that consisted of one set per body part, 20 reps per exercise. I'd do it three times through, stopping only to catch my breath."
Now that he's older, he also talked about how his workout routine has changed. "I use less weight than I used to. But that goes with what Bob Paris said about focusing less on weight and more on how you put blood into a particular muscle that you're working. That's what will make your muscles grow," said the actor.