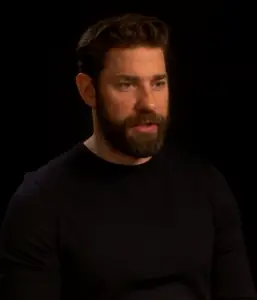 Hollywood actor John Krasinski had his career beginnings in the 2000s. He debuted as an extra in the film State and Main. On TV, he guest-starred in an episode of Law & Order: Criminal Intent. He next appeared in the 2004 film, Kinsey. His claim to fame was his role as Jim Halpert in the NBC mockumentary sitcom The Office, which he starred in from 2005 to 2013. During this period, Krasinski became more prolific on the big screen.
He had supporting/starring roles in such films as Duane Hopwood, Jarhead, A New Wave, The Holiday, Dreamgirls, License to Wed, Leatherheads, Away We Go, and It's Complicated. He also ventured into filmmaking with the 2009 movie Brief Interviews with Hideous Men, which he wrote, directed, and produced. In the 2010s, he had performances in the movies Something Borrowed, Nobody Walks, Big Miracle, and Monsters University.
He also starred alongside Matt Damon in the film he wrote and produced, Promised Land. As of 2015, he appears as himself in Lip Sync Battle, which he co-created. He went on to star in such films as Aloha, 13 Hours: The Secret Soldiers of Benghazi, The Hollars, and Detroit. He starred in the horror film A Quiet Place as Lee Abbott, a movie he also wrote, directed, and produced. Since 2018, Krasinski has been starring as the titular character in Amazon Prime Video's Jack Ryan.
It's obvious John Krasinski went from baby-faced Jim Halpert to formidable Jack Ryan, body and strength-wise. For this transformation, he upped his physical training with the help of trainer Simon Waterson. Six months prior to shooting Jack Ryan, the actor was already doing the necessary work in the gym.
It was enough time for him to improve his physique and get stronger that, by the end of it, carrying a 400-pound deadlift was no big deal. Krasinski trained five days a week doing physical conditioning workouts. Weekends, meanwhile, were spent for yoga or physiotherapy to help with recovery. He also did rowing exercises to look naturally strong on the water (his first Jack Ryan scene was doing an early morning rowing workout).