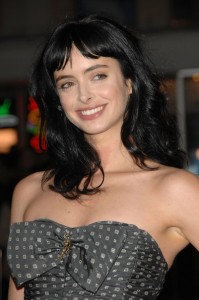 American actress Krysten Ritter first became known for her recurring role in the critically acclaimed series Breaking Bad, which she played in the late 2000s. Before that, she was already playing recurring parts in other well-known shows like Veronica Mars and Gilmore Girls. Around 2000s, she also managed to land supporting roles in a multiple films like 27 Dresses, What Happens in Vegas, and Confessions of a Shopaholic. Her first lead role on television was in the brief series Don't Trust the B—- in Apartment 23. She's now more popular for her portrayal of the titular character in the new show Jessica Jones. Her most recent work on the big screen were in Veronica Mars, Search Party, and Big Eyes.
34-year-old Krysten Ritter has been acting prolifically since the 2000s. She's had a few lead gigs on the small screen but so far nothing has come out big, except maybe this time being the lead in the new show Jessica Jones, which was praised by critics with her performance also being lauded by fans and critics alike. Thus, this must be a great year for Krysten. With her remarkable beauty and knack for acting, she deserves nothing but the best opportunities in Hollywood. Standing at 5'9, the actress is notable for her long and slender stature, which she now maintains by giving up wine, dairy, gluten, and fish.
She may have given the aforementioned foods, but Krysten has never tried any fad diets and will never do. She said the only reason why she decided to cut the said food items from her diet was because she was getting sick more frequently. Now she enjoys eating gluten-free pasta specifically the fresh ones. Another thing about her dietary habits is that she's fond of juicing, especially the green ones. The actress also said she's not into sweets, so she usually has kale, spinach, parsley, cucumber, and celery for juices.