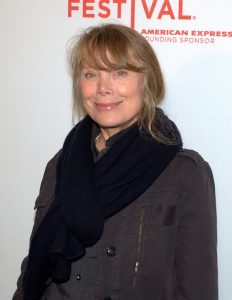 Hollywood actress Sissy Spacek started her acting career in the early 1970s. She debuted in Andy Warhol's Women in Revolt in 1971. She later gained recognition for starring as Holly Sargis in Terrence Malick's Badlands. Later in 1976, she came to fame for her portrayal of Carrie White in Brian De Palma's Carrie. She received an Academy Award nomination for Best Actress. She then won her first Academy Award for Best Actress for her role as Loretta Lynn in the biographical musical Coal Miner's Daughter in 1980.
She later starred in the films Raggedy Man, Missing, The River, and Crimes of the Heart. In the 1990s, she had performances in the movies JFK, Affliction, and The Straight Story, among others. She continued her acting career in the 2000s, starring in the films Tuck Everlasting, Nine Lives, North Country, and Four Christmases. In the 2010s, she had notable performances in the movies Get Low, The Help, and The Old Man & the Gun.
On television, Spacek received Primetime Emmy nominations for her performances in the TV films The Good Old Boys and Last Call. She later played Marilyn Densham in 5 episodes of HBO's Big Love. From 2015 to 2017, she starred as Sally Rayburn in the Netflix series Bloodline. Her most recent performances on the small screen were as Ruth Deaver in Castle Rock and Ellen Bergman in Homecoming.
Already in her 70s, Sissy Spacek takes care of her body through healthy eating. At a young age, she's decided to focus on a plant-based diet and cut down on her consumption of meat. "I became a vegetarian at 20 and stopped smoking, which I only did for a few years as a ridiculously stupid youth. I've stopped eating red meat and now I eat a lot of fish," said the actress. She also drinks plenty of water for constant hydration.