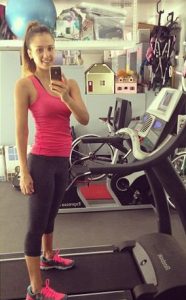 Jessica Alba is an American actress who had her mainstream breakthrough when she played the lead on James Cameron's
television series Dark Angel. The series was short-lived, but it was enough to catapult Jessica into stardom. Of course, it is enough to launch a more mainstream acting career that she ultimately gained prominence for her starring roles on the big screen. She starred in the feature film Honey and was one of the main casts in the superhero movie Fantastic Four, which she went on to reprise in the sequel. She also worked with late actor Paul Walker in Into the Blue. Recently, she's more known for her starring role in Machete and its sequel and in the recent Spy Kids film, collaborating with director Robert Rodriguez a bunch of times.
Since her mainstream exposure on the small screen, Jessica has received much attention for her physical appearance as many consider her highly appealing, especially because she has a notable slender figure. In the movie Honey, the pretty-faced actress was able to showcase her dancing skills, which also showcased her lean physique. With this, it can be assumed that the actress gets her sexy figure from physical activities such as dancing. Basically, a healthy lifestyle is something that Jessica makes sure is part of her daily habit. Aside from eating clean and healthy food, she makes sure she also gets to exercise regularly.
While she loves working inside a gym, Jessica also is fond of outdoor activities like walking, jogging, and even playing sports. She also practices such activities as yoga and Pilates. Basically, the actress doesn't like sitting around and is more of the on-the-go kind of person. Even motherhood hasn't stopped the actress from being physically active. Though she's surely busier, she makes it a point to continue her physical activities. With the combination of healthy and clean eating, this is the reason why Jessica has managed to maintain her figure all these years.