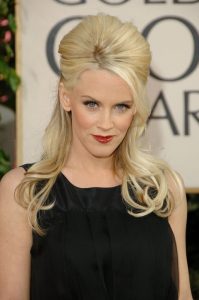 Prior to acting, Jenny McCarthy first gained prominence as a Playboy model. In 1993, she was featured nude on the magazine and was later named Playmate of the Year. This led her to start an acting career, which she began the following year. Her first acting work was in an episode of the TV series Silk Stalkings.
She went on to land one-time roles on Mr. Show with Bob and David, Baywatch, and Wings, among others. She also became known for her hosting gig on the MTV show Singled Out. Meanwhile, in the movies, she had her debut in 1995's Things to Do in Denver When You're Dead. She next had performances in the films BASEketball and Diamonds.
She also starred on her own show – the sitcom Jenny – which aired on NBC from 1997-1998. In the 2000s, she had roles in the films Scream 3, Scary Movie 3, Dirty Love, John Tucker Must Die, Witness Protection, and Wieners. She also became known for starring as Mary Class / Mary Claus on the TV film Santa Baby. Back on TV, she became a television staple for appearing as a co-host on The View.
She stayed on the show from 2004-2014. At the same time, she had recurring characters on Tripping the Rift, Two and a Half Men, and In the Motherhood. She also hosted the shows The Jenny McCarthy Show and Love in the Wild, as well as starred in the reality series Donnie Loves Jenny.
Apart from her diet plan, the Hollywood star maintains her toned body by working out consistently. In an interview, she quipped about how it's more crucial for her to exercise on a regular basis now that she's older. "I didn't have to work out before 35 but now I have to so it's treadmill, Bikram yoga, watching what I eat and of course great sex. Lots of great sex," said the celebrity. She spends about 90 minutes per day to workout and credits yoga for her slender figure.