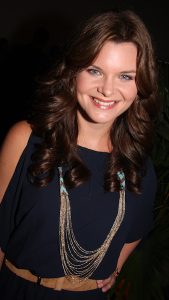 Actress Heather Tom has been acting since the late 1980s. Initially, she made one-time roles in such television shows as Who's the Boss? and Kids Incorporated. She later starred in the TV movie She'll Take Romance. Her first starring role on the small screen was as Victoria Newman in the soap opera The Young and the Restless, a role she played for more than a decade. While on the show, she starred in the TV film Deadly Whispers.
She went on to star as Kelly Cramer in the soap One Life to Live, starring there from 2003 to 2006. She simultaneously guest-starred in Law & Order: Special Victims Unit, Monk, and The Wedding Bells. Following this, she landed the role of Katie Logan in another soap opera The Bold and the Beautiful. She has been starring on the said show since 2007.
Later in 2010, she starred in the film Suicide Dolls. Tom has also made guest roles in other shows, including Ugly Betty, The Mentalist, Rizzoli & Isles, and Criminal Minds. In 2012, she starred in the TV movie Imaginary Friend. Her latest guest roles were in Unforgettable and Lucifer. Tom has also ventured into directing. Between 2016 and 2019, she directed several episodes of The Bold and the Beautiful.
Heather Tom stays in shape by following a healthy diet plan and working out. Her workout routine isn't something that's very intense. She tries to keep it simple and she wants it to be something that she enjoys. That's why she chooses running and hot yoga as her go-to exercises.
"Three or four times a week, I do hot yoga. It's my happy place. It's how I let go and clear my head," said the actress. She also goes for a run every morning. It's been part of her daily activity for many years. She wakes up early every day, get some coffee, and go for a run, that's why she typically starts her day.