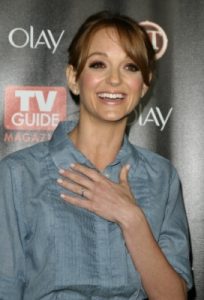 American actress Jayma Mays has made herself a household name thanks to her starring role on Glee. Before the show, she was already active both on television and film. Initially, she appeared in the movies Red Eye and Flags of Our Fathers playing minor roles. Her first starring role was in Epic Movie. Her recurring role as Charlie Andrews on Heroes made her more known. She next appeared as a recurring character on Ugly Betty. Her main role as Emma Pillsbury on Glee made her internationally known. During the same time, she starred in the films Paul Blart: Mall Cop, The Smurfs, and The Smurfs 2. She also continued her prolific career on television. She's now a voice actress working on the animated series The Adventures of Puss in Boots.
Standing at 5'4, the actress not only catches your attention with her pretty, big eyes. She also makes herself quite remarkable with her slender figure. She's already nearing her 40s and some find it amazing how she can keep her shape. Her thin frame makes her look like a decade younger. The former Glee actress keeps it fit and healthy by eating right. Though she admitted to being careless when she was younger in terms of her eating habits, she knows that now is a different story.
For breakfast, she does it with cup of coffee, some orange juice and a peanut butter sandwich. This gets her all filled up in the morning and keeps her energetic as well. For her morning snack, she has yogurt with a little bit of honey. Lunch for the actress means lots of veggies. Her favorite meal would be roasted beets and a salad with a simple vinegar dressing and oil dressing. For dinner, she likes baked fish with different kinds of vegetables. She does indulge in her cravings once in a while, but she always eats in moderation.