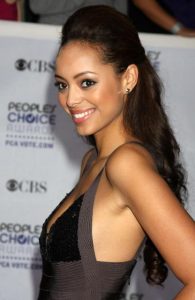 American celebrity Amber Stevens only began her acting journey in the mid 2000s. During her initial career, she mostly worked as a guest role on some shows. Her first acting gig on the big screen was as a cheerleader in the film The Fast and the Furious: Tokyo Drift. She later got her breakthrough after joining the main cast of the comedy-drama series Greek. She played Ashleigh Howard on the show. After Greek ended, she returned to making guest appearances. She had 2 episodes on New Girl and Chasing Life. She then joined the main cast of The Carmichael Show. The show began airing in 2015. In addition, she had notable roles in the films Jessabelle and 22 Jump Street.
Standing at 5'9, the actress surely has a modelesque body. She has the beauty and the body, and of course the talents to get noticed in Hollywood. The 30-year-old star certainly attracts attention courtesy of her overall physical attractiveness. Though her slender figure is something that's natural of her, the actress maintains her shape by trying her best to live a healthy life. She's still actually young. She only turned 30 this year, but the actress knows that by living healthy, she not only stays in shape, she also feels strong.
She believes that eating right is the key to both beauty and health. The result of junk food eating will always have dire consequences. The actress doesn't want to come to that. As much as possible, she loads her body with proteins and lots of veggies and fruits. She stays away from food items with high calories. She avoids eating lots of salty and sugary foods as well. In the morning, she mostly has oatmeal or eggs with fruits. For lunch, breast chicken and veggies will do. Same for dinner, which also has fish as an option.