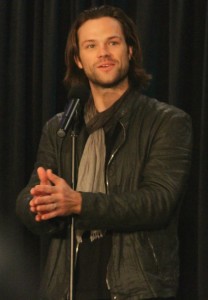 Supernatural actor Jared Padalecki is now a huge television star courtesy of his role as Sam Winchester in the long-running aforementioned TV series. Beginning his career in the early 2000s, he was first noticed for his role in Gilmore Girls where he played Dean Forester, Rory Gilmore's (Alexis Bledel) love interest. After his role ended in 2005, he immediately followed this up with Supernatural, where he played one of the lead roles alongside Jensen Ackles' Dean Winchester. The show has been running for 11 seasons since 2005, making it the longest-running North American science-fiction series. In addition to his notable work on the small screen, Jared has also worked as a cinematic actor, starring in a couple of movies, such as in New York Minute, Flight of the Phoenix, House of Wax, and Friday the 13th as his most recent work on film (2009).
The Supernatural hottie has been with us for a decade and with the length of this show, it really seems that we have grown with him and his brother Dean. Given this, we were with him during his younger years and we have witnessed how he's changed physically. In the present, Jared is much more muscular-looking compared to his younger self. With his action-oriented scenes as a fighter of supernatural forces, it only seems fitting for him to bulk up a little, and with his towering height (he's 6'4), it only makes him look even better.
Jared's workout routine starts with a five-minute cardio on the treadmill. Next are Bench Press (4 sets), Push-Up (3 sets, 15 reps), Incline Bench Press (3 sets, 10 reps), followed by Dumbbell Fly and Tricep Pushdown with the same sets and reps. Afterwards, he performs Tricep Dip (3 sets, 12 reps), Walking Push-Up (3 sets, 15 reps), Crunch for the abs (3 sets, 20 reps)Full Hanging Leg Raise (3 sets, 10 reps), and Burpee Push-Up (3 sets, 10 reps). In addition, Jared does planking for 3 sets and a few minutes. With his sessions, it's no wonder he looks masculine and healthy.