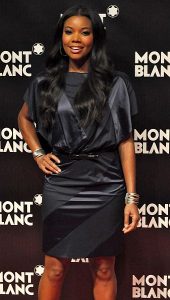 Gabrielle Union had her career beginnings in 1993, debuting as an extra in an episode of Family Matters. Soon she got to mainstream, first playing Keesha Hamilton in some episodes of the family drama 7th Heaven. Later in 1999, she made her film debut in She's All That. That same year, she also starred in the movie 10 Things I Hate About You. In 2000, she played a supporting role in the teen movie Bring It On.
Union played the titular character in the 2005 film Deliver Us from Eva, getting her Best Actress nominations at the Black Reel and NAACP Image awards. She became further known for her starring performances in such films as Cradle 2 the Grave, Bad Boys II, Breakin' All the Rules, and The Honeymooners. On TV, she starred as Perri Reed in ABC's Night Stalker and played Zoey Andata in FlashForward.
In the 2010s, she became widely known for her role as Mary Jane Paul in the TV drama Being Mary Jane, a role she played from 2013–2019. During this period, the actress also starred in the movies Think Like a Man and its sequel Think Like a Man Too, The Birth of a Nation, Girls Trip, and Breaking In, among others. She was the voice of Nala in the Disney animated series The Lion Guard. As of 2019, she stars as Sydney "Syd" Burnett in the action-crime series L.A.'s Finest.
Gabrielle Union works out regularly to keep herself fit and healthy. Already in her late 40s but the actress stays toned and slender performing squats and lunges. However, this doesn't mean she spends hours and days working out the gym. She has a crazy schedule after all with full-time acting and being a mom.
So she tries to squeezes in some time for her workouts fitting in about three 50-minute exercises every week. With each session, she allots about six minutes of cardio. "I like to mix it up so I don't get anxiety staring at the treadmill," said the actress. "Cardio could be jumping jacks, running up my driveway, side shuffles like I used to do in basketball, an elliptical, treadmill, or sled pushes."