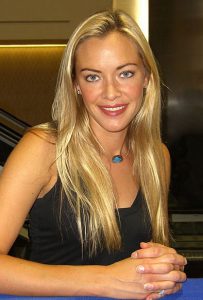 It was in 1994 that actress Kristanna Loken started her Hollywood career. She first acted as Danielle Andropoulos in As the World Turns. She later had recurring parts in such television shows as Aliens in the Family, Unhappily Ever After, Boy Meets World, and Pensacola: Wings of Gold. Her first starring role on television was as Taja in Mortal Kombat: Conquest.
In 2000, she starred as Sarah Logan in the short-lived series D.C., followed by her role as A.D.A. Lisa Walensky in Philly. Moreover, after some roles in straight-to-video films, she made her cinematic debut as the terminator T-X in Terminator 3: Rise of the Machines. This was Loken's first part in a major film and also became her breakthrough role. Afterward, she starred in the television movie Dark Kingdom: The Dragon King.
This was followed by roles in the feature films Ring of the Nibelungs, Lime Salted Love, and In the Name of the King: A Dungeon Siege Tale. Also, she played the title role in BloodRayne. At the same time, she played the lead Jane Vasco in the short-lived series Painkiller Jane, as well as appeared as Paige Sobel in The L Word. In the 2010s, the actress mostly had roles in straight-to-video films. She also played recurring role Rebecca Lang in Burn Notice. Loken also guest-starred in Key and Peele, Girl Meets World, and Lethal Weapon.
Kristanna Loken first major role was in Terminator 3: Rise of the Machines. To prepare for her role as the vicious T-X, she trained extensively. "I did extensive training. First I started with a nutritionist because I wanted to put on muscle, so I put on about 15 pounds of muscle mass," said the actress.
"I did weight training, weapons training, an Israeli form of martial arts called Krav Maga that they teach their military, which is kind of like a brutal form or street fighting, incorporating your surroundings. A lot of elbows, knees and head butts, that sort of thing," she added.