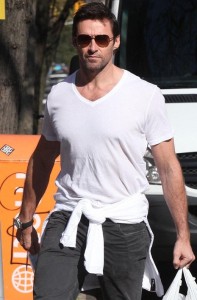 Aussie actor Hugh Jackman is now one of Hollywood's most recognizable action figures. Starting his acting journey on the Australian stage, he later acted on television beginning in 1994. After some roles on the small screen, he ventured into the big screen and worked on a few films before making his breakthrough as Wolverine in X-Men (2000). He has since become known for his role as the mutant with the retractable claws in the subsequent X-Men films, such as X2: X-Men United, (2003), X-Men: The Last Stand (2006), X-Men Origins: Wolverine (2009), X-Men: First Class (2011) The Wolverine (2013), and X-Men: Days of Future Past (2014). That's a lot of Wolverine films. Other movies are Kate & Leopold, Swordfish, Van Helsing, The Prestige, The Fountain, Real Steel, Les Misérables, and Prisoners. In addition, Hugh has received his first Oscar nomination for Best Actor for his portrayal of Jean Valjean in Les Misérables.
The Wolverine actor Hugh Jackman is already an established icon for his amazing portrayal of the said role that he certainly is unmatched. Because we know him for his action-oriented roles, we see Hugh for his incredibly chiseled-looking body and his physical strength in all his action-packed scenes. Thus, it's just normal for the actor to undergo rigorous training to maintain his health and fitness, in addition to supplying him the required energy to effectively portray his characters on the big screen. Despite nearing his 50s (he's 47 now), Hugh still looks great and his athletic body is a strong proof of that.
How could he maintain his figure all these years? Credited for giving Hugh his latest Wolverine body is David Kingsbury, who has since become the actor's trainer ever since they worked together in The Wolverine (2013). According to David, he incorporated such main lifts as Barbell Bench Press, Back Squat, Weighted Pull-Up, and Deadlift into Hugh's training program. It is designed on a four-week schedule, in which the reps for the main lifts are altered every week. The weight should increase every week for the first three weeks. On the fourth week, the weight is lessened in order to perform 10 reps.