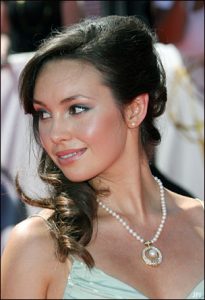 English actress Emily O'Brien had her career beginnings in the early 2000s. During this period, she started appearing in some short films. Her first movie role was in 2004's Rock & Roll Eulogy. She later appeared with a minor role in an episode of What About Brian. She gained recognition after she landed the part of Jana Hawkes in the soap opera The Young and the Restless, which she starred in from 2006 to 2011.
Starring on the said show for several years, O'Brien became a familiar face on daytime television. Later in the 2010s, she further pursued a career on the big screen. In 2014, she starred in the supernatural horror film Pernicious. Her next roles were in the B-movies Restoration and Honey Jar: Chase for the Gold. She then appeared in the dystopian thriller movie The Bad Batch, as well as acted in the movie The Bigfoot Project.
After this, she was the voice of Veruca Salt in the straight-to-video film Tom and Jerry: Willy Wonka and the Chocolate Factory. She went on to have guest roles in the TV shows One Day at a Time, Constantine: City of Demons, and Love, Death & Robots. More recently, she starred in the TV film Beautifully Flawed. This year, the actress played the recurring character of Gwen in the soap opera Days of Our Lives.
Emily O'Brien stays in great shape by following a clean diet plan. Apart from her fitness routine, she credits her toned figure to her healthy diet. She has since learned to stay away from high-calorie and high-sugar foods, which is why she's mindful of her food choices. Typically, her diet plan consists of lean meat, complex carbs, healthy fats, and plenty of fruits and veggies.
In between meals, she also snacks on something healthy and filling like almonds, yogurt, or a smoothie to avoid hunger pangs, which only leads to binge-eating. While she's generally healthy in her eating habits, the actress also makes sure that she doesn't deprive herself of the joy that food brings, so she allows herself to indulge in her cravings once in a while.