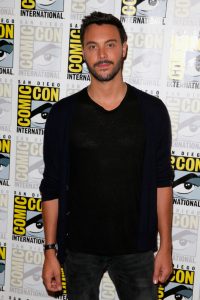 Actor Jack Huston had his career beginnings in the mid-2000s, debuting on the made-for-television film Spartacus. He next made his first film role in 2005's Neighborhood Watch. He later appeared as a supporting part in the movie Factory Girl. Subsequently, he had roles in the films Shrooms, Outlander, The Garden of Eden, Shrink, and Boogie Woogie. He also starred on the TV film Miss Austen Regrets, as well as starred as Jamie on ABC's Eastwick. From 2010 to 2013, he became widely known for his portrayal of Richard Harrow on the HBO series Boardwalk Empire.
At the same time, he also played Gerald on the British serial Parade's End. In the early 2010s, he had roles in the feature films Mr. Nice, The Twilight Saga: Eclipse, Wilde Salome, The Hot Potato, Two Jacks, and Not Fade Away. He next played Jack Kerouac in the biographical film Kill Your Darlings. That same period, he also starred in the films Night Train to Lisbon and American Hustle. He next starred in Posthumous, The Longest Ride, Pride and Prejudice and Zombies, and Hail, Caesar!. In 2016, he played the titular character in the film Ben-Hur. More recently, he starred in The Yellow Birds, An Actor Prepares, and Above Suspicion. He will star in the upcoming Martin Scorsese film The Irishman.
For his lead role in Ben-Hur, the actor took his training to the next level to achieve a lean, muscular physique. Of course, his diet also played a crucial role. His trainer, in an interview, spilled the beans of what the actor's diet plan was during this period. "The look we were going for was based loosely on Brad Pitt in Fight Club, that sort of lean, muscular feel," said his trainer.
"But still, Jack would expend a huge amount of calories on a daily basis. He'd eat a fairly low-carb, high fat, high protein diet, working closely with our nutritionist Juliet O'Sullivan. Your diet is a huge part of your health," he went on to say. Generally, the actor still follows a healthy diet plan with his meals mainly consisting of complex carbs, proteins, and fruits and vegetables.