Early Career and Breakthrough on Film
Hilary Ann Swank was born on July 30, 1974 in Lincoln, Nebraska. Gaining worldwide acclaim for her portrayal of Brandon Teena in 1999's Boys Don't Cry, Swank has since established herself as a high-profile actress mostly recognized for her award-worthy and heart-wrenching roles on the big screen.
Making her film debut in a small role in 1992's Buffy the Vampire Slayer, she made her breakthrough after being cast as Julie Pierce in 1994's The Next Karate Kid. Before that, she has gained recognition on the small screen for playing Danielle on the sitcom Camp Wilder. She also became known as Carly Reynolds on the popular series Beverly Hills, 90210.
Her huge critical and commercial success came in 1999 with Boys Don't Cry. For her performance, she won an Oscar for Best Actress, as well as a Golden Globe for the same category. Following this, Swank has starred in several well-known films in the early 2000s, including The Gift, The Affair of the Necklace, Insomnia, and The Core.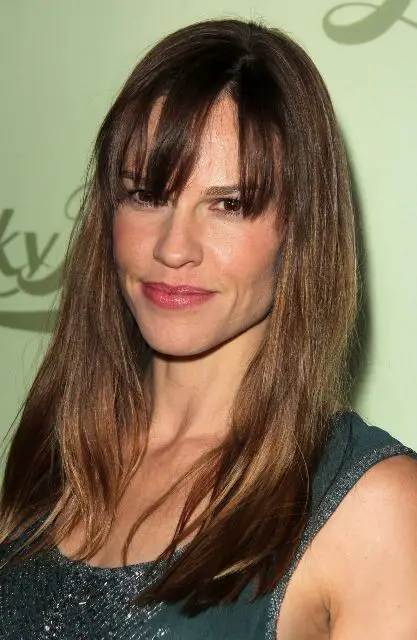 In 2004, she portrayed feminist and women's rights activist Alice Paul in Iron Jawed Angels, for which she was nominated for a Golden Globe for Best Actress in a Miniseries or a Television Film. It was also during this time that she received another critical acclaim for her role as amateur boxer Maggie Fitzgerald in Clint Eastwood's Million Dollar Baby.
For her performance in the said film, she won her second Oscar and Golden Globe for Best Actress and got several nominations. The film also won the Oscar for Best Picture, and proved to be a huge box office success, grossing more than $216 million on a $30 million budget.
Solidifying her status as a top-caliber actress, Swank continued to have a prolific career in the mid to late 2000s, starring in the movies The Black Dahlia, The Reaping, Freedom Writers, P. S. I Love You, Birds of America and Conviction. She has also portrayed female aviator Amelia Earheart in 2009's Amelia.
She has recently appeared in the films The Resident, New Year's Eve, Mary and Martha and You're Not You, where she also served as a producer. Additionally, she will star in Tommy Lee Jones' upcoming movie The Homesman, co-starring William Fichtner and Meryl Streep.
Swank has starred in over 20 films and has appeared on some TV shows. Over the course of her career, she has received several awards and nominations, including two Oscars and two Golden Globes for Best Actress, as well as BAFTA and Screen Actors Guild Award nominations.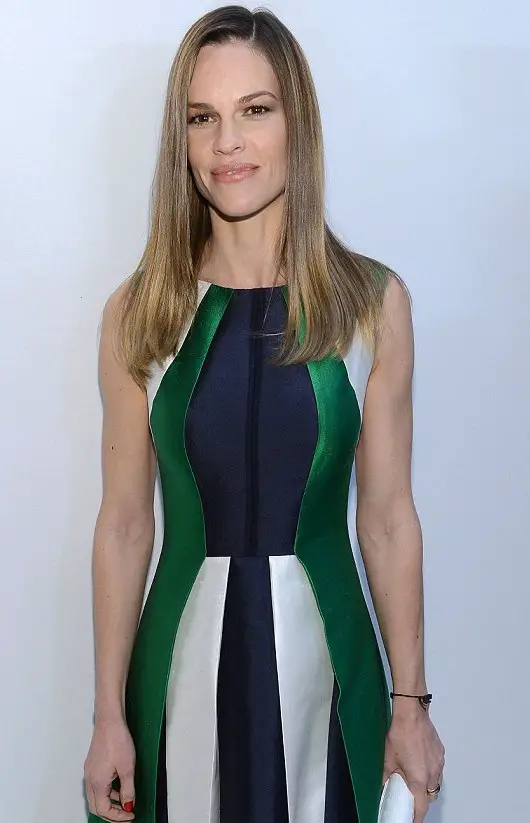 Personal Life and Plastic Surgery Rumors
Hilary Swank had married actor Chad Lowe in September 1997 but divorced in November 2007 after ten years of marriage. She had also dated her agent John Campisi starting in 2006 but they had since split up in 2012. The award-winning actress, though sometimes associated with a boyish image because of the strong personalities of the roles she has played on films, has still become a target of plastic surgery rumors.
According to some reports, the Million Dollar Baby actress has had a breast augmentation procedure to increase her cup size. Such speculations began when photos of the actress in the 1990s showed her to be somewhat flat-chested. However, after her critical success in Boys Don't Cry, observers thought her cleavage has become more prominent.
While some believe that the actress is just naturally gifted with full breasts, others thought that if she really were just busty, it was unlikely for Swank to conceal her breasts underneath her clothes all those years. Plastic surgeon Dr. Anthony Youn believes that the actress has had breast implants after her breakup with Chad Lowe.
Dr. Youn said: "After her much-publicized breakup with husband Chad Lowe, Hilary Swank appears to have gotten a breast augmentation." He continued: "People who have recently ended a long-term relationship quite often undergo plastic surgery. For many of them, it symbolizes a new beginning, or a transformation into a new person."
He then shared his thoughts about people who undergo cosmetic procedures in an unfortunate and desperate attempt to try to get back their partners to whom they have recently broken up with. While it is unlikely that Swank had thought twice about a reconciliation with her ex-husband, it still is the case for some people, particularly celebrities. Dr. Youn then offered an advice, saying: "Either way, plastic surgery is something that must be taken seriously, as it is not the same as getting a new hairstyle."