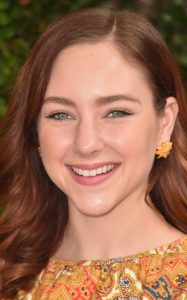 Actress Haley Ramm debuted playing the role of Little Starla Grady in the 2002 teen comedy film Slap Her… She's French. She next appeared in the low-budget film Seventy-8. She simultaneously made one-time appearances on television as well. Initially, she appeared in CSI: Crime Scene Investigation, Yes, Dear, CSI: Miami, and Grey's Anatomy, among others. In 2007, she played Gwen Tennyson in the television film Ben 10: Race Against Time. Ramm also landed notable roles on the big screen around the same time.
She appeared as Brittany Loud in Flightplan and played the Young Jean Grey in X-Men: The Last Stand. She next had roles in the films Into the Wild and Just Peck, as well as in the straight-to-video films Walking Tall: The Payback and Walking Tall: Lone Justice where she starred as Samantha Jensen. She went on to play Jen Long, a recurring character in the CBS series Without a Trace. She landed more guest roles on the small screen, such as in iCarly, Lie to Me, and NCIS: Los Angeles.
In the 2010s, Ramm had performances in the films Skateland, Rubber, and Red State, Disconnect. She next starred as the lead in the 2014 independent film Cowgirls 'n Angels: Dakota's Summer. Between 2014 and 2015, she also starred as Brenna Carver in the short-lived series Chasing Life. After one-episode roles in The Originals, Mistresses, Good Girls Revolt, and Notorious, she landed the part of Violet Simmons in the Hulu series Light as a Feather, a role she's been playing since 2018.
Haley Ramm maintains a healthy body by choosing her foods well. Most of the time, she avoids processed and junk foods. While she considers herself a huge foodie, she still prefers to nourish her body with clean, whole foods. For this reason, breakfast typically is whole grain oatmeal with fruits. Lunch and dinner, on the other hand, are usually fish or chicken, brown rice, gluten-free pasta and with some salad. For snacking, she prefers fruits, smoothies, yogurts, almonds, and dark chocolate.