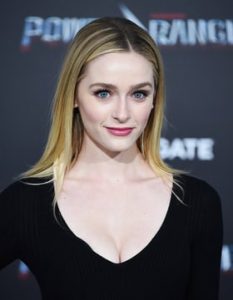 Former beauty queen Greer Grammer made her acting debut in the 2010 film Almost Kings. That same year, she made her first television appearance in an episode of iCarly. Her breakthrough on the small screen was as Lissa Miller in the MTV series Awkward. Starting as a recurring character, she ultimately joined the main cast from seasons 3-5.
Around the same time, she had performances in such films as Chastity Bites, Life Partners, An Evergreen Christmas, Emma's Chance, and Too Close To Kill. She also played McKenna Cederstrom in some episodes of the sitcom Melissa & Joey, as well as starred in the TV movie Manson's Lost Girls. She next appeared as herself in Cupcake Wars, guest-starred in an episode of Rush Hour, and starred in the TV film Deadly Sorority.
After Awkward ended, she had a role in the movie Altitude. Between 2016 and 2017, she also played recurring character April in the sitcom The Middle. In 2019, she played a supporting role in the romantic comedy movie The Last Summer. She recently starred in the film Burning at Both Ends. Grammer was also cast to portray Sarah Weddington in the upcoming political drama film Roe v. Wade. In addition, the actress appeared in an episode of the web series Foursome.
Greer Grammer keeps her body fit and strong by engaging in a series of physical activities. Naturally, the actress already keeps herself active with her on-the-go lifestyle. Nevertheless, she spices things up doing yoga and dance. She's also into cardio barre and pure barre, just to name a few. "I grew up dancing and I did ballet, jazz, modern, a little bit of everything—so that's why I like doing yoga and barre-based classes. It just works well for my body and my muscles," said the actress.