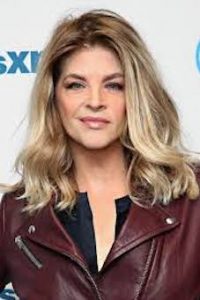 Hollywood star Kirstie Alley first appeared as an extra in the TV series Quark in 1978. Later in 1982, she made her cinematic debut in the film Star Trek II: The Wrath of Khan. After this, she starred as Casey Collins in the ABC series Masquerade. After this, she portrayed Gloria Steinem in the TV movie A Bunny's Tale. Alley became further known after landing the role of Rebecca Howe in the sitcom Cheers, which she played from 1987 to 1993.
In 1989, Alley co-starred in the comedy film Look Who's Talking, which gained her further mainstream recognition. She reprised the said role in the sequels Look Who's Talking Too and Look Who's Talking Now. She next had performances in the films Village of the Damned, It Takes Two, and Deconstructing Harry, among others. She later starred as Gladys Leeman in the 1999 film Drop Dead Gorgeous.
From 1997 to 2000, the actress played the lead in the TV series Veronica's Closet. Also, she played Rose Marie Clericuzio in the miniseries The Last Don. In 2005, she played a fictionalized version of herself in the short-lived comedy series Fat Actress. In the 2010s, she appeared as a contestant in Dancing with the Stars. From 2013 to 2014, she played the lead in the TV Land sitcom Kirstie. Afterward, she starred as Ingrid Hoffel in Fox's Scream Queens. In the movies, her most recent work was in 2015's Accidental Love.
Kirstie Alley has long struggled with her weight but after years of making lifestyle changes, she's since lost weight. Now she just tries her best to maintain her body by eating well and following her fitness regimen. When it comes to her diet plan, the actress said she doesn't follow any dieting regimen. "I can have anything I want, I'm just counting the calories. I know how many calories 6 oz. of tenderloin is," said the actress.
"I know that pasta is 200 calories in a cup. So as long as I keep steady that way, and count it up, it's easy to count because I know how many calories those foods that I really love are." Also, she shared how she doesn't eat anything after 7pm.