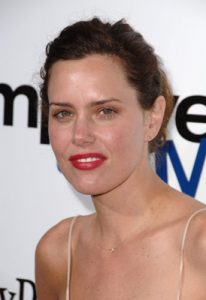 Actress Ione Skye had her career beginnings in the 1980s, debuting in the film River's Edge. She next had appearances in the movies Stranded and A Night in the Life of Jimmy Reardon. Skye rose to mainstream recognition for her role as Diane Court in Cameron Crowe's 1989 film Say Anything… Around the same time, she made her television debut as Pauline Bonaparte in the miniseries Napoleon and Josephine: A Love Story.
She went on to play the titular character in the 1989 film The Rachel Papers. During the '90s, she had starring performances in the movies Mindwalk, Samantha, Gas Food Lodging, Wayne's World, and Guncrazy. Back on TV, she played Eleanor Grey in the short-lived show Covington Cross. Later, she starred in Dream for an Insomniac, One Night Stand, and Jump.
She continued her career in the 2000s with roles in the films Free, Fever Pitch, and Zodiac. During this period, she also had one-time parts in The Twilight Zone, The Dead Zone, and Life As We Know It. The actress also played Mrs. Veal in Arrested Development, as well as starred in the TV movie Back When We Were Grownups. In the 2010s, she appeared in the feature films Return to Babylon, Haunt, Dear Eleanor, and XOXO. As of 2018, she stars as Carleen in the HBO series Camping.
Ione Skye stays in shape by following a healthy diet plan. Already nearing her 50s, it comes naturally for her to eat clean. She's not much into processed foods anymore and not even a crazy schedule would bring her to eat junk just because it's convenient. She finds a way to have access to nutritious foods on a regular basis. She packs healthy snacks, such as nuts, protein bars, and fruits. This helps her to avoid eating sugary and salty treats. Her meals mostly include lean proteins, whole grains, and lots of veggies.