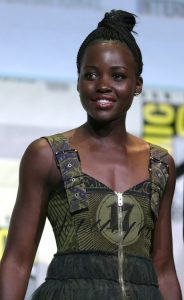 After debuting in a 2008 short film, actress Lupita Nyong'o landed the part of Ayira in 5 episodes of the television series Shuga. Years later, she got the role of Patsey in the award-winning drama 12 Years a Slave. Her performance in the film was widely praised. She also earned several awards, including the Academy Award for Best Supporting Actress. With her newfound fame, People magazine named her the most beautiful woman in 2014.
She later performed in the action-thriller film Non-Stop where she starred opposite Liam Neeson. Her next work on the big screen was as Maz Kanata in 2015's Star Wars: The Force Awakens. After this, she voiced the part of Raksha in the film The Jungle Book. At the same time, she had a starring role as Nakku Harriet in the movie Queen of Katwe. She next reprised her role as Maz Kanata in the sequel Star Wars: The Last Jedi.
She also played Max in the animated web series Star Wars Forces of Destiny. In 2018, the actress became further known for her portrayal of Nakia in Black Panther. Just this year, she has starring performances in the films Little Monsters and Us. She'll also Maz Kanata again in the upcoming film Star Wars: The Rise of Skywalker.
Lupita Nyong'o upped her workout routine to prepare for her role as Nakia in the superhero film Black Panther. "[Taking on the role] was intense," said the actress. "It meant I had to get into particularly good shape for it, to be able to do the stunts that they were requiring me to do." According to her, her physical training aimed to increase her "strength, stamina, and flexibility". As with other Marvel roles, the actress shared she had to undergo a boot camp training that lasted six weeks. "We would have warm-ups together, then break off and do our individual techniques," Nyong'o said.