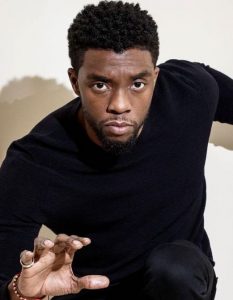 It was in 2003 that Hollywood star Chadwick Boseman started acting. He made his debut as Reggie Porter in the soap opera All My Children. During the next couple of years, he guest-starred in some TV shows, which includes Third Watch, Law & Order, CSI: NY and later ER and Cold Case. He next starred as Nathaniel "Nate" Ray in the short-lived series Lincoln Heights. He also ventured into film portraying Floyd Little in the 2008 film The Express. In 2010, he played Sergeant McNair in the series Persons Unknown.
Subsequently, he played Jackie Robinson in the 2013 movie 42. After this, he portrayed James Brown in the biographical film Get on Up. 2016 was the year that changed his career. He played a supporting role in the film Gods of Egypt and landed the role of T'Challa / Black Panther in Captain America: Civil War. He also played Jacob King in the film Message from the King. Following this, he portrayed Thurgood Marshall in the film Marshall. He reprised his role as T'Challa / Black Panther in the 2018 film Black Panther, gaining him international fame. He also played Black Panther in Avengers: Infinity War.
The actor maintains his overall health and fitness not only by eating right but also by working out. For his role as the Black Panther, Boseman upped his workout routine in order to improve his physique as well as his strength. Playing a superhero, it's already a given that actors should be undergoing vigorous training. That's why basic workout habits won't be enough. Of course, the actor has a trainer to help him get started.
However, the Black Panther star did not reveal what his training specifically consisted of. He said: "Training includes a lot of strength and flexibility, but I'm not going to say anymore. I can't say or reveal their training secrets."