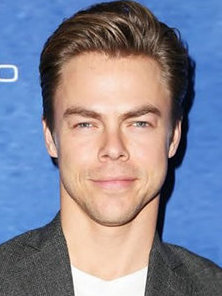 Derek Hough is a famous Latin and ballroom dancer, choreographer, actor and singer. His claim to fame was as a choreographer in the ABC dance-competition series, Dancing with the Stars. He's been with the show between 2007 and 2016, winning a record six seasons. He has also received Primetime Emmy nominations nine times and winning two for Primetime Emmy Awards for Outstanding Choreography. He simultaneously performed on stage productions as well.
In the 2010s, Hough ventured into acting, debuting in an episode of the sitcom Better With You. From 2014 to 2016, he became known for his performance as Noah West in the musical drama series Nashville. Also, he appeared as himself in 2 episodes of Lip Sync Battle. He went on to portray Corny Collins in the NBC live musical Hairspray Live! As of 2017, he appears in World of Dance as one of the judges. He's also appeared as himself in the television programs American Ninja Warrior and Running Wild with Bear Grylls. In the movies, he had a cameo appearance in Rock of Ages. He then made his film debut in the movie Make Your Move 3D.
Derek Hough consistently looks for ways to spice up his workout routine and diet. "My fitness routine now is actually much more vigorous than when I was doing Dancing With the Stars," said the dancer-actor. "I'm getting older and I'm a very curious person, and I love to learn. I'm constantly moving."
"I've actually been doing a lot of yoga — hot yoga sculpt — because I love sweating," shared the former Dancing With the Stars choreographer. "People will be like 'Oh, sweat is gross.' I actually love it. It makes you feel like you're working hard but also it's getting rid of all that bad water." Apart from spending time at the gym, he also loves engaging in outdoor activities. He considers being active while outdoors emotional workouts as well.