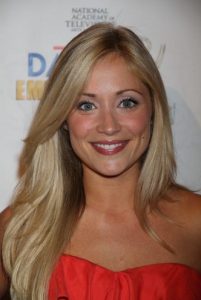 Hollywood star Emme Rylan debuted in an episode of Drake & Josh in 2005. She next had her first film role in Armageddon for Andy. Shortly after, she got her first starring role as Lizzie Spaulding on the soap opera Guiding Light, joining the cast from 2006 to 2009. At the same time, she appeared as Winnie in the film Bring It On: All or Nothing. After her role in Guiding Light had ended, she performed in a couple of short films.
She then landed the role of Abby Newman on another soap opera, The Young and the Restless. This gained her further recognition among television viewers. She starred on the show from 2010 to 2013. Following this, she played Amy Phillips in an episode of CSI: Crime Scene Investigation. Next, she successfully got the role of Lulu Spencer on the medical drama series General Hospital, playing the part since 2013.
The actress is a mother of three, which is also one of the reasons why she's super active. Apart from her regular gig on General Hospital, she also needs to run around after three kids. That's a lot of calories ready to burn. And while her full-time job and motherhood can be credited to her slender figure, Rylan also commits to a workout routine to stay in good shape. After all, she doesn't only need a lean figure, she also needs her body strong and full of energy.
"I am doing anything and everything I can," said the actress. "Running, cardio kickboxing, Tracy Anderson Method, pushing the stroller up and down hills, barre classes, and Zumba! I feel like I'm seeing the most results by changing it up every day." Since she sees and the feel the results in how she looks and how she feels from the inside out, the soap opera star continues to live an active lifestyle.