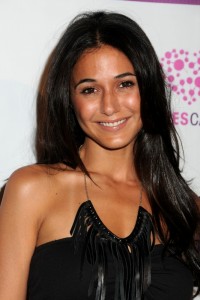 Canadian star Emmanuelle Chriqui was already 20 when she began her acting career on both film and television in Canada. In 1999, she made her Hollywood debut in the movie Detroit Rock City. She continued her acting career in the 2000s with some films, notably in Wrong Turn in 2003. She next had starring roles in mainly indie movies, such as Waiting… and National Lampoon's Adam and Eve, both released in 2005. It was also around the same time that she began playing the role of Sloane in the HBO series Entourage. She played one of the main character's love interest; playing it recurrently until 2011. She also became widely known for playing Adam Sandler's love interest in the comedy feature You Don't Mess with the Zohan released in 2008. Before the decade ends, she's had roles in some other features. After Entourage she had a main role in the short-lived show Cleaners. She now stars in Murder in the First, a new TV series.
The 40-year-old actress is surprisingly, well, in her 40s. Her well-toned physique and slender figure makes it a little bit unbelievable. But how does the beautiful actress maintain her amazing figure all these years? Another shocking thing about her is that she doesn't implement any strict diets. In an interview before, she even said she eats whatever she craves for, though the good thing about her is that she balances this out by going to the gym. She just doesn't like stopping herself from eating what she wants.
As a food lover, Emmanuelle has a weakness for cheese and chocolate chip cookies, though she learned how to eat fresh and healthy foods as she was growing up because her other mostly served her fresh foods. In her household, they would always eat homemade meals. Even up until now, the celebrity is not fond of eating junk foods. She stays fit and healthy by eating organic foods most of the time. In addition, she only eats fish that has low mercury content. Because she believes in the saying that you are what you eat, she makes it a point that she has fruits, veggies, and lots of water every day. To achieve this, minimal junk food intake is a must.