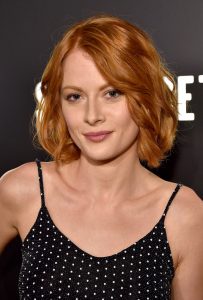 English actress Emily Beecham had her career beginnings in the mid-2000s. She debuted in the 2006 TV movie Bon Voyage. She then made one-time roles in the TV shows Afterlife, The Innocence Project, Party Animals, The Bill, and New Tricks. Later, she played the role of Karen in the film 28 Weeks Later. She went on to star in the films Rise of the Footsoldier and The Calling. Beecham also starred as Elvira Blake in the TV movie Agatha Christie's Marple.
Also, the actress had two-episode roles in Tess of the d'Urbervilles, The Street, and Silent Witness. Around the same time, she had performances in the film Basement and the TV movie The Thirteenth Tale. Afterward, she played Caro Allingham in the BBC series The Village. She then guest-starred in an episode of The Musketeers.
In 2016, she played the role of Diedre in the film Hail, Caesar! Her performance as the title role in the movie Daphne earned her critical praise. She also became widely known for her role as The Widow in the AMC series Into the Badlands, which she starred in between 2015 and 2019. This year, Beecham starred in the movies Berlin, I Love You and Little Joe.
The actress recently gained mainstream recognition for her kick-ass role in Into the Badlands. To prepare for her character, she went through physical training to gain muscles. Of course, part of her physical transformation involved eating the right kind of food. Hence, the Emily Beecham diet plan was mostly clean and balanced. Because she wanted to bulk a bit, she ate more proteins than her usual consumption. " I also did some personal training as well which involved eating a lot of protein. I didn't do any cardio because I wanted to build muscle, not lose weight," said the actress.