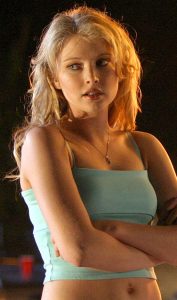 Pretty actress Elisabeth Harnois started early in the show business. During her stint as a child actress, she appeared on some TV shows and films. She also worked as a voice actress for the animated series Fantastic Max. When she was 11, she starred on the TV movies Timeless Tales from Hallmark and Midnight Patrol: Adventures in the Dream Zone. She went on to star as Alice on Adventures in Wonderland during her early teens. As an adult, she became known on TV for her roles on some shows. These are Point Pleasant, One Tree Hill, Miami Medical, and most recently, CSI: Crime Scene Investigation. She has also starred in a couple of indie films.
Standing at 5'6, the 37-year-old actress is surprisingly looks youthful for her age. She also has a slender physique that oozes charm and sexiness. Apparently, Elisabeth takes care of herself quite well. She takes great lengths to make sure she avoids unhealthy foods and habits. Being an actress passionate at what she does, it also becomes her mission to treat her body and herself in general as an investment. So, she doesn't waste any time and protects herself from temptations that could harm her physical and mental well-being.
In the morning, she has made it a habit to have a healthy breakfast. She typically eats an egg, wheat bread, and fruit juice. She sometimes oats for oatmeal with blueberries. For lunch, she goes for pasta and chicken as her source of healthy carbs and protein. She also adds veggies on the side for a balanced diet. In the evening, she goes for pasta and fish, or a sandwich with a side of fruits. She makes sure that fruits and veggies are always incorporated into her diet. For snacks, she mostly eats yogurt, fruits, and almonds. She has a cheat day wherein she allows herself to eat burgers and fries, sometimes pizza, and cupcakes, too.