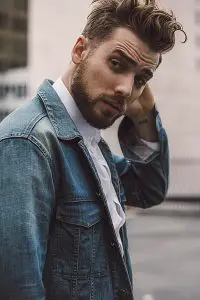 Canadian actor Dustin Milligan debuted in the TV drama The Days in 2004. The following year, he had his first cinematic role in the film The Long Weekend. He then starred as Henry Rader/Jason Holland in the short-lived series Runaway. After guest roles in Supernatural and About a Girl, he landed the role of Ethan Ward in 90210. During this period, he also became active in the movies.
He had performances in Man About Town, Final Destination 3, The Butterfly Effect 2, The Messengers, In the Land of Women, Butterfly on a Wheel, and Extract. In the 2010s, he secured more roles on the big screen. He had supporting/starring parts in such films as Eva, Gunless, Repeaters, Shark Night, Sisters & Brothers, and The Entitled. He next had roles in the movies No Clue, Sequoia, Demonic, Me Him Her, and A Family Man.
From 2015 to 2020, he gained wider recognition for his portrayal of Ted Mullens in the Canadian series Schitt's Creek. He simultaneously starred as Tom Cummings in the TV show X Company. Also, Milligan played the role of Sgt. Hugo Friedkin in the BBC America series Dirk Gently's Holistic Detective Agency. In the movies, his recent work was in the 2018 feature film A Simple Favor. He also recently appeared in RuPaul's Secret Celebrity Drag Race.
Dustin Milligan is all about balance and moderation. "I think [balanced living] is a combination of exercise and mindful eating as well as having fun… overall I'm in the zone for getting to a balanced life, [but] maintaining spirit and allowing to slip up sometimes is key," said the actor.
As for his workout routine, the actor prefers exercising first thing in the morning. During periods where he's not able to make it or ends up indulging in his food cravings, he doesn't bombard himself with feelings of guilt. "If I don't go to the gym, I'll go skateboarding and running instead," he explained. Normally, his fitness regimen includes cardio by doing "three-to-four day cycle".