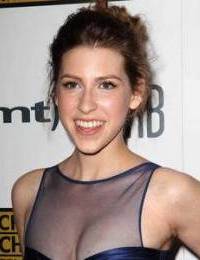 Hollywood star Eden Sher first appeared in the 2001 film Stuck where she played a small role. Later, she had her first television appearance in an episode of The O.C. Her first recurring role was as Gretchen in the Showtime series Weeds. That same time, she played Carrie Fenton in the sitcom Sons & Daughters. She next landed guest roles in The Middleman, Party Down, and Sonny with a Chance.
Sher gained recognition after getting the part of Sue Heck in the ABC sitcom The Middle, which went on to air on television for 9 seasons between 2009 and 2018. While a regular cast on the show, she continued working outside The Middle. For instance, she guest-starred in an episode of Pair of Kings. She next played the role of Penny in the 2014 film Veronica Mars. She next ventured into voice acting, starring as the Star Butterfly in the animated series Star vs. the Forces of Evil.
Afterward, she guest-starred in Sing It! and Superstore. During this period, Sher also had roles in the feature films Temps, The Outcasts, and Step Sisters. Her most recent role on television was as PJ Fields in The CW's Jane the Virgin. In addition, her role in The Middle also won her a Best Supporting Actress in a Comedy Series at the Critics' Choice Television Award.
The actress admits that she's not good when it comes to choosing foods. Most of the time, she ends up eating the ones she likes more than the ones she needs. But, she tries to balance it out by living an active lifestyle and eating lots of fruits.
"Lots of terrible things for you (garlic bread, mac & cheese, burger, anything catering has that day in that vein) hidden under a massive heap of spinach. Snacks are apples and peanut butter, banana and peanut butter, cereal, and cereal with peanut butter," said the actress about her go-to lunch and snacks when she's working.