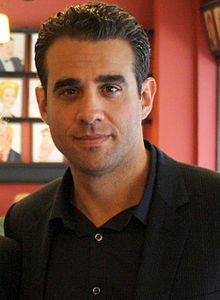 Bobby Cannavale begins his Hollywood career in 1996, initially playing an extra in a few films. Later in 1998, he had his first credited role in the television movie When Trumpets Fade. After this, he became noticed for his starring role as Roberto Caffey in NBC's Third Watch. He later played recurring roles in 100 Centre Street, Ally McBeal, and Kingpin.
He also had notable recurring characters in Six Feet Under as Javier and Will & Grace as Vince D'Angelo. During this period, he also appeared in several films, including Washington Heights, The Station Agent, Shall We Dance?, Romance & Cigarettes, Fast Food Nation, Snakes on a Plane, 10 Items or Less, and many others. He went on to play Eddie Saccardo in CBS' Cold Case and Charles Rosselini in Blue Bloods. Following this, Cannavale received further notice for starring as Gyp Rosetti in Boardwalk Empire and Dr. Mike Cruz in Nurse Jackie.
In 2016, he starred in the short-lived series Vinyl. Also, he played Irving in Mr. Robot and Angela "A.J." Giles Jr. in TBS' Angie Tribeca. As of 2018, he stars as Colin Belfast in the Prime Video series Homecoming. The actor also had numerous movie performances, such as in Blue Jasmine, Adult Beginners, Daddy's Home, I, Tonya, and Jumanji: Welcome to the Jungle. To add, he starred as Jim Paxton in Ant-Man and Ant-Man and the Wasp. Recently, he played Felix "Skinny Razor" DiTullio in Martin Scorsese's The Irishman.
For Bobby Cannavale, working out is pretty much a part of his routine. Before working, either shooting for a role on the screen or rehearsing and performing on the stage, he makes sure he works out first. It helps him get ready physical and mental-wise. His workout routine depends on the type of character he's playing. As for his regular fitness regimen, it's usually a combination of cardio and weights.