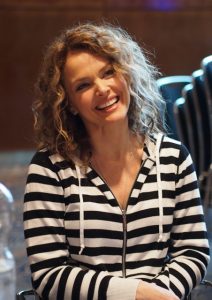 Hollywood actress Dina Meyer had her career beginnings in the early 1990s. During her early years, she appeared as Lucinda Nicholson in 12 episodes of the show Beverly Hills, 90210. She also appeared as Kate Miller in three episodes of Friends. During the '90s, she had roles in the films Johnny Mnemonic, Dragonheart, and Starship Troopers.
In the 2000s, she starred in the short-lived shows Secret Agent Man and Birds of Prey. She played Barbara Gordon in the latter. She next played a recurring character in Miss Match. After this, she starred in the show Point Pleasant. She had also starred in some TV movies. In the 2010s, she joined the main cast of the show Sequestered. She's also had roles in the movies Dead in Tombstone, Piranha 3D, and The Evil Within.
The 49-year-old actress stays in shape by eating right. With her age, she understands that she needs to focus on eating healthy foods instead of processed ones. In her blog, the actress talked about how challenging it was to maintain a healthy eating lifestyle. She said: "Truth be told, I wasn't blessed with a lightning speed metabolism, so staying fit over the years has, at times, been quite challenging. I am not 'naturally skinny' and I love to eat, so believe me when I say, it would be really easy for me to grow a few dress sizes larger than I am. Trust me, I've been there."
She revealed that while she had a fast metabolism during her high school years, things got different when she went to college. She when she gained weight because of her food choices, she realized things weren't the same. She wrote: "Sadly, I realized that those days of being able to eat anything were long gone; and if I were to continue eating this way, I was going to continue to grow in size." Now, she needs healthily all the time because that's when she feels good.