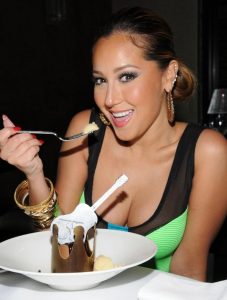 Hollywood star Adrienne Bailon had her career beginnings in the early 2000s. Her first prominent role was as Chanel Simmons in the Disney TV movie The Cheetah Girls. She then reprised her role in the sequel The Cheetah Girls 2. She made her big screen debut in the movie Coach Carter and starred in some TV movies. As a singer, she was first known as a member of the girl group 3LW. She was also part of Disney's The Cheetah Girls from the TV film of the same name. She reprised her role as Chanel Simmons one more time in The Cheetah Girls: One World. She went on to appear in some episodes of Keeping Up with the Kardashians. Since 2013, she's been a co-host of the show The Real. She's also starred in the television movie Lovestruck: The Musical.
The 34-year-old actress stays in shape by sticking to a healthy lifestyle. She eats right. She also eats a well-rounded diet. She basically stays away from processed and junk foods. She may have cravings and other guilty pleasures but she has them in moderation. Moreover, she had also shed pounds prior her wedding in 2016. Her physical trainer said that she had lost 22 pounds in just a period of two months. How was she able to do this?
Her trainer spilled the beans. The singer-actress' goal was to reduce her weight to be healthier. Adrienne gained a few pounds some years ago and she wanted to lose the weight that she had gained. So, aside from working out intensely, she also adjusted her diet plan to suit her needs. Her trainer revealed that "she would typically drink two plant-based protein drinks a day—one right when she woke up and one for dinner". In between though, she would just eat a regular breakfast and lunch that's focused on greens, lean protein, and complex carbs. She also loves having eggs and avocado toast. Prior to exercising, she would eat yogurt and some cashews.