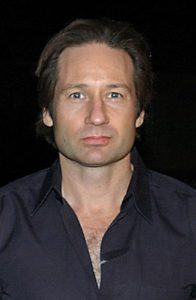 Hollywood actor David Duchovny had his career beginnings in 1988, playing a small role in the film Working Girl. He next appeared in the movie New Year's Day. Two years later, he made his first television role as DEA Agent Denise Bryson in Twin Peaks. After this, he played recurring character Jake Winters in Red Shoe Diaries. Duchovny's breakthrough role was as FBI Special Agent Fox Mulder in The X-Files.
He first starred on the Fox show from 1993 to 2002. He reprised his role in the 1998 film The X-Files: Fight the Future. In the 2000s, the actor had performances in the movies Return to Me, Evolution, Zoolander, Full Frontal, House of D, Trust the Man, Things We Lost in the Fire, and The Joneses, to name a couple. He starred again as Fox Mulder in the 2008 sequel The X-Files: I Want to Believe.
Duchovny also returned to television during this period; this time starring the role of Hank Moody in the Showtime series Californication (2007-2014). After this ended, he briefly starred as Sam Hodiak in NBC's Aquarius. He reprised his role as Denise Bryson in the recent Twin Peaks, as well as played Fox Mulder again in the revival of The X-Files from 2016 to 2018. His other films in the 2010s were Goats, Phantom, and Louder Than Words.
David Duchovny stays in good shape by being active and following a healthy diet. "I really don't have any secrets to looking young, I just eat well. I exercise, Take one-a-day vitamins," said the actor. His workout routine includes weightlifting and playing sports, such as basketball, baseball, and boxing. He also likes to swim. "I love running, too. I run a lot. I'm training for Fundraising triathlons," he shared. Aside from all these, The X-Files actor also keeps himself healthy by doing spinning and attending yoga classes.