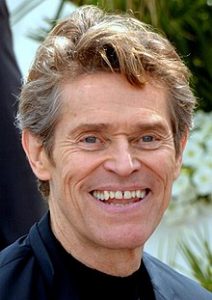 Hollywood actor Willem Dafoe began his career in 1980, debuting in the film Heaven's Gate. He next had roles in the films The Loveless, Streets of Fire, and To Live and Die in L.A. He gained recognition for starring as Sergeant Elias Gordon in the acclaimed film Platoon directed by Oliver Stone. For his performance, he received his first Academy Award nomination for Best Supporting Actor. He later played Jesus of Nazareth in Martin Scorsese's The Last Temptation of Christ.
He reunited with Oliver Stone in 1989's Born on the Fourth of July. In 1990, he starred in David Lynch's Wild at Heart. He went on to star in several movies, including Light Sleeper, Body of Evidence, Clear and Present Danger, The English Patient, Speed 2: Cruise Control, and The Boondock Saints. In the 2000s, he had performances in the movies American Psycho and Animal Factory, among others. Also, he received praise for his role in Shadow of the Vampire, getting his second Academy Award nomination for Best Supporting Actor.
In the 2000s, he became best known for playing Norman Osborn / Green Goblin in Spider-Man and Armando Barillo in Once Upon a Time in Mexico. He also had roles in The Life Aquatic with Steve Zissou, The Aviator, American Dreamz, and Inside Man. In 2018, he portrayed Vincent van Gogh in At Eternity's Gate. For this, he earned his first Best Actor nomination at the Academy Awards. Dafoe was also acclaimed for his work in the movie The Florida Project. This year, he starred in the films The Last Thing He Wanted and Siberia.
Willem Dafoe keeps in good shape by doing exercises that he enjoys. For him, that's mostly meditation. "Have work that you love and also some sort of physical or spiritual practice. Get some kind of healthy routine. For me that's yoga practice," said the actor. He wakes up early to start his day and he started it with meditation. This has since helped him to get things done. More specifically, he runs and practices 90 minutes of ashtanga yoga daily.