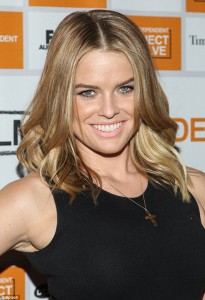 English actress Alice Eve is now a well-known figure in Hollywood, thanks to her notable roles in a couple of movies. She initially started her acting career in her 20s in the UK. During her beginnings, she was not very prolific in her work as an actress, appearing in very few movie roles and TV shows. It was in the 2010s that she found more significant success in her craft, specifically after landing the female lead in the romantic comedy feature She's Out of My League in 2010. It was a year before that, however, that she made her American debut in the indie movie Crossing Over. Since then, she has had roles in a couple of films, most notably in The Raven, Men in Black 3, and most popularly in Star Trek: Into the Darkness in 2013. Her most recent work on the big screen was in the indie romantic drama Before We Go. On television, she had a recurring character on the HBO series Entourage.
Standing at around 5'5, the 34-year-old beauty is definitely a sight for sore eyes. Ever since her notable showcasing of her toned bod in the Star Trek sequel in 2013, Alice has been a favorite star of both males and females. Her beauty is elegantly simple and her body is curvaceous and athletic at the same time. How does she maintain this? Being a busy career women with her craft, the actress sure knows how to allot time to make sure she takes care of herself well.
Interestingly, she mostly relies on natural ways. For example, instead of going to the gym, she prefers running outdoors. This way, she gets to connect with nature and get fit at the same time. It's more fun compared to exercising indoors. When it comes to her diet, Alice doesn't follow any special dietary regimen. She just eats healthily as possible. If she needs to shed some pounds, she resorts to eating lots of meat and veggies, plus orange and green juices. Of course, she has cravings sometimes? Her favorite? Some chips!