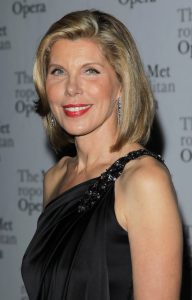 It was in 1977 that actress Christine Baranski started her screen career. She debuted with a one-time role on Busting Loose. The following decade, she played Beverly Tucker on the soap opera Another World, followed by her role as Jewel Maniscalo on All My Children. During this period, she also had appearances in the films Crackers, 9½ Weeks, Legal Eagles, and The Pick-up Artist. She rose to fame for starring as Maryanne Thorpe on the CBS sitcom Cybill (1995-1998). For her role, she won a Primetime Emmy Award for Outstanding Supporting Actress in a Comedy Series in 1995.
She simultaneously starred in the movies Addams Family Values, The Birdcage, The Odd Couple II, and Cruel Intentions. In the 2000s, she starred as Marsha Bickner on the CBS sitcom Welcome to New York and Annie Brennan on the NBC show Happy Family. Meanwhile, she had performances in the films How the Grinch Stole Christmas, Chicago, and Mamma Mia!. In the 2010s, she gained greater fame for playing Dr. Beverly Hofstadter on The Big Bang Theory and Diane Lockhart on The Good Wife. For her work in the latter, she received Primetime Emmy Award nominations for Outstanding Supporting Actress in a Drama Series from 2010 to 2015. She reprised her role as Diane Lockhart on the spin-off series The Good Fight. She has also had notable roles in the films Into the Woods, Miss Sloane, A Bad Moms Christmas, and Mamma Mia! Here We Go Again.
Apart from her diet plan, the acclaimed actress maintains her lean yet strong figure by doing workouts. Having trained as a dancer, she's used to following an active lifestyle. But, having a crazy schedule she admits that there are times it's impossible to find the time to work out. Nonetheless, she exercises when she has the opportunity. "Well, when you're working long-hour days, you don't exercise, but I often have light episodes or days off. When I do, I either take a Pilates class or I do yoga. I also absolutely love to power walk in the countryside where I live," said the actress.