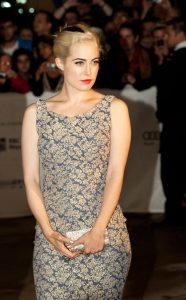 It was in 1996 that Canadian star Charlotte Sullivan got her start. She first debuted in the film Harriet the Spy. Shortly after, she appeared in the movie The Legend of Gator Face. At the same time, she also had one-time roles in the TV shows Goosebumps and Kung Fu: The Legend Continues. Afterward, she had appeared in the television movies The Pathfinder and When Innocence Is Lost. Her next cinematic role was in 1998's Shadow Builder. In the 2000s, she mostly starred in TV films and guest-starred in several shows.
She also had performances in the features How to Deal, Fever Pitch, The Cry of the Owl, and Defendor. She also starred in the direct-to-video film Population 436. In 2008, she notably guest-starred as Maxima in an episode of Smallville. She next had roles in the miniseries Iron Road and Alice. In the 2010s, she gained mainstream prominence for her role as Gail Peck in the popular Canadian series Rookie Blue.
She played the said role until 2015. Simultaneously, she portrayed Marilyn Monroe in an episode of the miniseries The Kennedys. Following this, she played recurring character Anna in the NBC series Chicago Fire. As of 2017, she plays the part of Nicole Mitchell in the TV show Mary Kills People. While her TV career was taking off, she also continued her work on the big screen. She had roles in the films Citizen Gangster, 388 Arletta Avenue, The Colony, and Radius.
The actress maintains a healthy body by eating clean, whole foods. Now that she's in her 30s, it's become a natural inclination for nourish her body with healthy foods. Her diet plan is quite simple — eat complex carbs like whole grains, get lean protein from fish and chicken, mostly avoiding red meat, and munch on plenty of fruits and vegetables. Occasionally, she allows herself to indulge in her cravings.