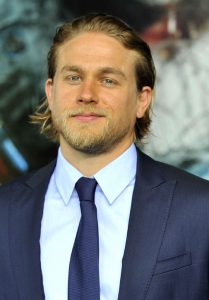 Hollywood star Charlie Hunnam started his career in his native England. Some of his early works were on the British shows Byker Grove and Queer as Folk. Soon, he ventured in American television, guest starring on Young Americans and joining the main cast of Undeclared. He also played supporting roles in the films Abandon, Cold Mountain, and Children of Men. He had also played the title role in Nicholas Nickleby. From 2008 to 2014, he starred as Jackson "Jax" Teller on the TV series Sons of Anarchy. He's also starred in the films Pacific Rim, Crimson Peak, and The Lost City of Z. He's recently played the lead in the film King Arthur: Legend of the Sword.
The actor impresses his fans worldwide not only with his acting chops, but also with his amazing physique. For his recent role as King Arthur in the movie King Arthur: Legend of the Sword, Hunnam worked harder to become more fit. When he's not preparing for a role, the actor is more relaxed when it comes to his eating options. He consumes lean protein most of the time alongside vegetables, fruits, and foods rich in fiber. In actuality, he eats a lot when working on his body to increase his muscle mass.
When traveling, Hunnam packs his own food. An egg salad sandwich is something that he likes to have before going to any trip. His diet also involves plenty of water, salad, and fruits. Overall, he makes sure he has a clean and nutritious diet to keep himself healthy and strong. Of course, he indulges in his cravings every now and then. He loves pizza, burgers, and fries. But when eating them he makes sure he doesn't eat much. After all, he has a weight and a body to maintain and he knows that overeating not-so-healthy foods will be eventually bad for him.