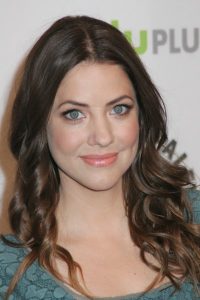 Hollywood actress Julie Gonzalo first debuted in the 2001 short film The Penny Game. The following year, she had her first movie role in I'm with Lucy. On TV, she first appeared in 2 episodes of Greetings from Tucson. In 2003, she played the role of Stacey Hinkhouse in the film Freaky Friday. She later had supporting roles in the movies DodgeBall: A True Underdog Story, A Cinderella Story, Christmas with the Kranks, and Must Love Dogs.
Gonzalo gained wider recognition for playing Parker Lee in the TV series Veronica Mars from 2006 to 2007. Following this, she had performances in the films Cherry Crush and To Rob a Thief. Back on TV, she became further known for starring as Maggie Dekker in the television series Eli Stone from 2008 to 2009. In the 2010s, she first appeared in the films 3 Holiday Tails, The List, and Waffle Street.
She later guest-starred in Nikita, Castle, The Glades, and CSI: Miami. From 2012 to 2014, she was recognized for her portrayal of Pamela Rebecca Barnes in Dallas. Subsequently, she had roles in the TV movies Pumpkin Pie Wars, Falling for Vermont, and The Sweetest Heart. She next made one-episode roles in Grey's Anatomy and Lucifer. This year, she starred in the made-for-television movie Flip that Romance.
The 38-year-old actress stays in shape by following a healthy lifestyle. For starters, she's mindful of her eating habits. She rarely eats processed foods. She's since cut down on her sugar consumption as well. Instead, she sticks to nutritious meals consisting of lean meat, veggies, and rice. In the morning, it's either egg and toast or oatmeal with some fruits. For lunch, she prefers fish or chicken with rice and salad. She has the same thing for dinner, alternating it with some soup and pasta. For snacks, she opts the healthy ones as well — fruits, nuts, yogurt. To satisfy her cravings, she has a cheat day once per week.