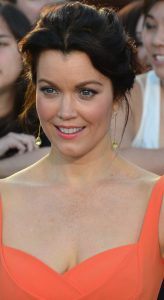 Hollywood star Bellamy Young had her career beginnings in 1995, debuting as Dr. Courtney Evans in the soap opera Another World. Later in 1999, she had her first film role in Black and White. In the 2000s, she had roles in the films We Were Soldiers, Larceny, Mission: Impossible III, Trust Me, One, Two, Many, and This Is Not a Test. During this period, she also played recurring role Deputy Dist. Atty. Agnes Hunt in For the People.
She next starred as Twyla Gentry in the short-lived series Peacemakers, as well as played Dr. Miller in some episodes of Scrubs. Also, she played Assistant State Attorney Monica West in CSI: Miami and Ellen Darling in Dirty Sexy Money. Continuing her career in the 2010s, she played Beth Clemmons in Criminal Minds.
From 2012 to 2018, she became best known for her role as Melody "Mellie" Grant in ABC's Scandal. For her performance, she won the Critics' Choice Television Award for Best Supporting Actress in a Drama Series in 2014. After Scandal wrapped up in 2018, she starred in the film A Wrinkle in Time. Her latest television role was as Jessica Whitly in the Fox series Prodigal Son.
Bellamy Young stays in shape by following a plant-based diet. In fact, the actress has been a vegan for 28 years. This diet proves to be beneficial for her health and overall wellness. The actress stopped eating meat back in college.
"It was sophomore year, and I got the baked breast of chicken, and they sort of plated it weird. As I lowered it down to my tray, it looked exactly like my mom's little furry yippy dog when she'd roll over and want you to rub her tummy. That was it for me," shared Young.
She later found that ditching all kinds of animal products was for the best. "For me it was the answer to a myriad of things that weren't working in my life. I had terrible cystic acne, no energy at all, I didn't always digest food perfectly," said the actress.