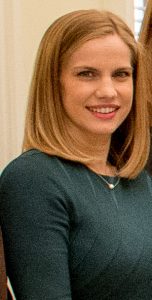 Actress Anna Chlumsky became famous as a child star courtesy of her role as Vada Sultenfuss in the 1991 film My Girl. She reprised her role in the sequel My Girl 2. Following this, she starred in the films Trading Mom and Gold Diggers: The Secret of Bear Mountain. Meanwhile, she also pursued a career on television. She debuted on the 1997 TV film A Child's Wish. She later guest-starred on Cupid and Early Edition. After a couple of years of being inactive, she returned in 2007 with a role in the film Blood Car.
Subsequently, she had roles in the films In the Loop and The Good Guy, as well as in the TV movie 12 Men of Christmas. In the 2010s, she had guest appearances on Covert Affairs and Lights Out. She then became further known for starring as Amy Brookheimer on the HBO series Veep. Simultaneously, she has also guest-starred on Army Wives, Law & Order: Special Victims Unit, Hannibal, and Halt and Catch Fire. Her latest role in the movies was in 2015's The End of the Tour.
Apart from working out, the actress also sticks to a healthy diet plan in order to maintain her healthy weight. In an interview, the film and TV star got candid about her food preferences. For her easy and fast source of protein, she always has peanut butter. She takes probiotics for her digestive health and eats fish a lot for their omega 3s. She's also into fresh fruits and juices. Not only do they keep hunger at bay, they also make her skin super healthy.
She said: "My in-laws got me in the habit of always having fresh fruit ready to eat throughout the day. It keeps you out of snacking trouble. If I'm not in a place I can prepare fresh fruit, it's fresh juice. I'm a convert to the fad."