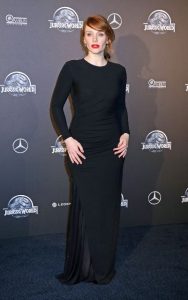 The daughter of Ron Howard, Bryce Dallas Howard's path to acting is not uncalled for. She began acting on stage and it was there that she was noticed by filmmaker M.Night Shyamalan. He then cast her in his movie The Village, which turned out to be her breakthrough role. Subsequently, she starred in Lady in the Water and played Gwen Stacy in Spider-Man 3. She next portrayed Katherine "Kate" Brewster Connor in Terminator Salvation. She continued her prolific career in the 2010s, playing Victoria in the latter Twilight films. Her latest films are Jurassic World and Pete's Dragon.
At 36 and as a mother of two, Bryce knows how to maintain a lean figure. She has already revealed in an interview how she does not believe in dieting. This means she does not deprive herself of food in order to see desired physical results. She just tries to live well, by this she eats healthy and works out regularly. Being physically active is something that's important for her. Naturally she's already mobile, with her being a mom and being a full-time actress as well.
For her female lead role in 2015's Jurassic World, the actress admitted to working harder. This is to play her character in the movie more efficiently. As audiences were able to see, she was in her amazing shape in that film (she's still in her amazing shape). She just didn't prepare for the physical aspect of it. She knew she needed to be stronger and agile in order to be in a movie with dinosaurs chasing you in your high heels.
To gear her up for this challenge, she first worked to strengthen the muscles in her legs. In an interview, she said: "I just became completely fixated on having the strongest ankles imaginable. I'd put my foot on it and do calf raises and then stay on my tippy toe and do squats. Then I'd turn perpendicular and exercise each side of my foot. Just to practice the stabilizing muscles." She would also stretch and do squats and push-ups before the shoot.