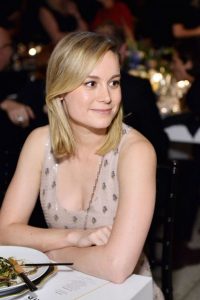 Hollywood star Brie Larson started her acting career as a child, first appearing in the program The Tonight Show with Jay Leno. In the 2000s, she became known for starring as Emily Stewart in the sitcom Raising Dad. During this period, she also landed a supporting role in such film as Hoot. She later played Kate Gregson in the comedy-drama series United States of Tara. In the 2010s, she had supporting performances in the movies Scott Pilgrim vs. the World, 21 Jump Street, The Spectacular Now, and Trainwreck.
For her acting, she was first noticed for her performance in the independent film Short Term 12. It was, however, her lead role in the movie Room that earned her international acclaim. For her role here, she won an Academy Award for Best Actress. In 2017, she starred in the films Kong: Skull Island and The Glass Castle. She will play the titular character in the upcoming superhero film Captain Marvel. She's also a musician who released her debut album Finally Out of P.E. in 2005.
The 29-year-old actress remains fit and healthy because she eats healthily. More recently, the actress is also training vigorously as she preps her body to play a superhero in the upcoming Captain Marvel movie. This has been the most physically challenging role Larson has gotten so far. And of course, it's also pretty obvious that actors and actresses starring in superhero features need to up their workout regimen to gain muscles and improve not only their strength but also their agility.
According to the actress, she has trained for nine months in order to build her strength before filming for Captain Marvel started. "My highest right now is 215 pounds in deadlifts, 400-pound hip thrusts," she said. She also went on to say: "Being able to lift weight like that really changed my perspective and understanding of myself."