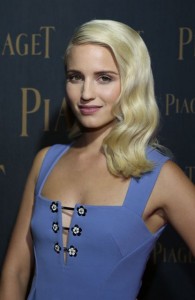 American actress and singer Dianna Agron began acting on television and her remarkable screen presence led her to land notable roles in such television shows as Veronica Mars and Heroes, which are both popular worldwide, giving Dianna her much-needed career boost. However, it was her role as Quinn in Glee that got her widespread recognition. Just like the rest of the cast, her acting skill was not the only one showcased but her singing and dancing as well. With her newfound prominence, Dianna started working on a couple of films while working on Glee, acting in The Romantics, Burlesque, and I Am Number Four, the last of which she played a more significant role. In 2013, she starred in The Family. Her most recent work on the big screen are the 2015 movies Zipper, Tumbledown, and Bare. She has also some upcoming projects.
With her memorable beauty and her slender figure, it didn't take long for the 29-year-old celebrity to get her much-deserved attention. Standing at 5'5 1/2, the star is not only sexy but is also very fit, which is made apparent by her great dancing. Surely, her fans want to know what her secrets are to achieve her figure. For one, Dianna is a vegetarian so she basically doesn't eat meat and only eats fresh and natural foods. To make sure she only eats healthy, she prefers preparing her own meals. She's usually seen doing her grocery shopping at Whole Foods since she likes it organic.
She's also fond of drinking natural juices to flush out toxins out of her body and keep her skin vibrant as well. As much as possible, the former Glee actress stays away from processed and junk foods. She says that eating healthy has always helped her become prepared for her work and supply her energy needed to last the day. Naturally, when you consume junk most of the time, it shows as your body loses its strength and you feel tired all the time. Dianna knows this, so she regularly eats nutritious foods.