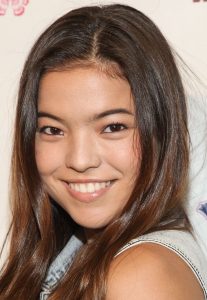 Hollywood star Piper Curda first debuted in an episode of Law & Order: Special Victims Unit in 2011, followed by another guest appearance on Body of Proof. At the same time, she starred as Casey on the web series Rule the Mix, which she played until 2012. She next appeared in 2 episodes of Malibu Country and voiced Debbie Kang on the animated series Randy Cunningham: 9th Grade Ninja.
She also starred in the 2013 short film Save the Date, as well as performed on the made-for-television films Shmagreggie Saves the World and Reading Writing & Romance. She subsequently guest-starred in an episode of Rizzoli & Isles. She later became further known for her recurring character as Kennedy Van Buren on the Disney Channel series A.N.T. Farm. After this, she landed the main role of Jasmine Kang on the short-lived Disney show I Didn't Do It.
That same period, she appeared in an episode of Liv and Maddie as Kathy Kan. In 2015, she played the supporting role of Alyssa in the Disney Channel Original Movie Teen Beach 2. She next starred as Audrey on the web series Just Another Nice Guy. She simultaneously made her film debut in 2017's School Spirits. Her latest TV role was as Grace Ho on the web series Youth & Consequences.
The young actress still enjoys her youth by eating whatever she wants. Being in her early 20s, she doesn't need to worry about gaining weight over burgers and fries because of her fast metabolism. However, she tries to keep it balanced by practicing moderation. She doesn't overeat — that's just her general rule. She also makes an effort to incorporate more fruits and veggies into her diet. To consume more fruits and veggies, she usually just have some smoothie for snacks. For breakfast, she loves whole grain cereal and almond milk or omelet with coffee. For lunch and dinner, she usually has chicken or steak with salad.