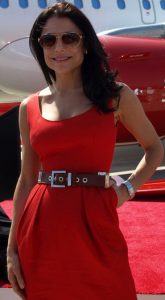 Hollywood celebrity Bethenny Frankel started her career as an actress in the early 1990s. She debuted in the low-budget film called Soiree Sans Hors D'oeuvres. She next starred in the movie Hollywood Hills 90028, followed by another performance in Wish Me Luck. After a long hiatus, she returned in the entertainment industry in the 2000s. This time, she focused on building a television career.
In 2005, she was a contestant in the reality series The Apprentice: Martha Stewart where she came in second place. From 2008 to 2010, she gained mainstream recognition for being a regular cast member in The Real Housewives of New York City. After this, she competed in Skating with the Stars where she also came in second place. Frankel then starred in her own show called Bethenny Ever After. She even hosted her own program titled Bethenny.
In 2015, she returned as a regular cast member of The Real Housewives of New York City, staying on the show until 2019. She also guest-starred as herself in The Real Housewives of Beverly Hills. She went on to appear in other reality shows, including Beat Bobby Flay, Million Dollar Listing New York, Shark Tank, and Bar Rescue. She also starred as herself in the short-lived program Bethenny & Fredrik.
Nearing her 50s, Bethenny Frankel still stays in great shape. She attributes this to her healthy lifestyle, particularly her attitude towards eating. Interestingly, she doesn't follow any strict diets to stay slim. "I'm old enough to know that fat-free was a craze, low-carb, eat your weight in meat and cheese was a phase, keto is a fad, the Zone was a moment, and so on …. so yes, I eat carbs. I eat everything, but I don't binge," said the TV personality.
Her food choices vary but she makes sure they're always healthy. "Today, it was an egg white vegetable omelet with a baked potato and a few french fries for lunch. Sometimes, it's arugula with tomato, avocado, and Parmesan. Pureed soups are a mainstay for me," she said.